DECEMBER 2021 Press Release by Norm Freyer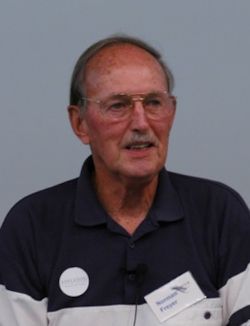 It is the Christmas holiday time again! What does that mean to members of the Citrus Watercolor Society (CWS)? For one thing it is time for the CWS holiday luncheon. And the other is to have a visit from artist Tom Jones.
Tom was scheduled to demonstrate at the 2020 affair, but that was cancelled due to COVID. But he is on the docket this year and we welcome him back. Tom Jones is one of the most popular watercolorists among CWS members. Tom has been a frequent visitor and demonstrator at numerous educational workshops to local artists. In the twenty years that I have known Tom, it seems as though he has made at least one stop in this area each year. Tom and his wife Bonnie reside in Edgewater, Florida. Bonnie is an accomplished artist in her own right. Both are members of the CWS.
On Friday, December 10, Tom makes a return stop to the area as the demonstrator for the Citrus Watercolor Society holiday luncheon to be held at the Citrus Hills Golf & Country Club in Hernando. Tom Jones impresses you with his ease of instruction, his interesting dialogue, where everyone gets the same individual instruction and encouragement, and everyone seems to gain something in their knowledge of watercolor art. His approach to watercolor painting just seems to make things so simple. Tom has traveled from coast to coast in the U.S. and to international sites with this type of workshop that is in constant demand. Always sporting a trademark straw hat with a colorful band, he has indeed become a very popular artist. Tom has been commissioned by government agencies, corporations, environmental groups, clubs, and private collectors have commissioned him to expand their art collections. In answer to popular demand, he typically produces his watercolor landscapes in a series of three or five paintings around a specific theme. His art can be found internationally in many private and corporate collections, including commissioned paintings displayed in the Florida State Capital Building, Walt Disney World Corporation, Marriott Corporation, and the Omni Corporation. Tom's work has been featured in many books and on magazine covers as well as posters and brochures. Tom's web site is http://www.tomjonesartist.com .
Tom Jones will be conducting a one-day workshop on Saturday, December 11, at the Whisperings Pines Recreation facility in Inverness, FL. For more information contact Dori Sullivan, email: [email protected] or see the CWS web site at https://citruswatercolorsociety.org/workshops.html