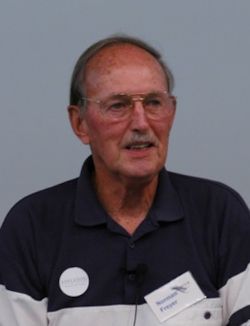 I hope that my headline doesn't scare anyone away, because the demonstrator at the November 12 meeting of the Citrus Watercolor Society (CWS) is Inverness artist Barbara Kerr. Sometimes her demos replicate a secondary school classroom. And, if you find yourself talking to your neighbor during the demo, you may be whistled for a foul. In the end, Barbara's demos are always high spirited and full of meaningful information.
Barbara is a native Californian who moved to Inverness in 1997. She taught Intermediate Watercolor at the Art Center of Citrus County for many years, and she was also Program Chairperson of the Art Center. She served as President of the Citrus Watercolor Society and the Ocala Art Group. She has conducted demonstrations in Ocala, in The Villages, in Boone, NC. and in Inverness at the Citrus Watercolor Society. She is a member of the Nature Coast Painters and the Citrus Watercolor Society. She says, "My lighthearted demonstration entitled Oops, will focus on common mistakes we make while painting, and how best to resolve them."
Some of the favorite workshops she has attended were conducted by Jean Grastorf, Lynn Ferris, Alex Powers, Skip Lawrence, Miles Batt, Jean Dobie, and Judy Betts.