January 2022 Press Release by Norm Freyer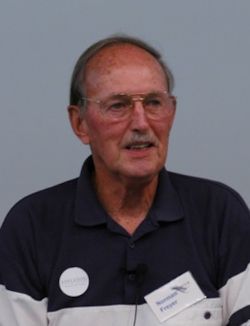 While writing the Citrus Watercolor Society (CWS) column over the years, I am amazed by the number of people who actually read it. Those folks are not only artists but from the general public. Wherever I go there is always someone who will comment, "Oh, I read your column every month." I must admit that I find this quite satisfying. But all good things must come to an end, and this column for the upcoming month of January 2022, will be my last.
I never intended to become an artist in my later career, but I did. And I never figured that I would produce a piece of art that someone would want to purchase, but I did. And I never intended to write this column for many years, but I did. And it was all great fun! To all those readers out there – thank you, thank you! And a special thanks to the Chronicle for encouraging me to write the column in the first place. In the future, artist Dori Sullivan of Ocala will write this column. She is an experienced writer and will manage it well.
The visiting demonstrator for the CWS January 14th meeting will be Frank Zampardi of the Villages, FL. Frank is a retired secondary school art educator, having taught in public schools for thirty-two years. For the past 15 years, Frank has established himself as an accomplished artist, specializing in exact detail through the use of graphite and colored pencil, watercolor and oil. Frank emphasizes intricate compositions and chooses subject matter for its design possibilities. These elements are coupled with the skillful use of light and shadows and enhanced with well-developed shading techniques. Frank's work has been exhibited in numerous art festivals, the Central New York Adirondack Art Show, where he has been a first-place winner many times and selected for the Master's Division. He has exhibited at the Central New York Community Arts Council, The Fenimore Gallery, The Smithy Gallery in Cooperstown, NY, Cooperstown Art Association Exhibition, The Gannett Gallery, Munson, Williams, Proctor Institute in Utica, NY, McKenzie Art Gallery in Cazenovia, NY, Rome Community Art Center, 531 Central Fire Arts Gallery, St. Petersburg, FL and the Wildlife Exhibit at the New York State Fair. Since moving to The Villages, Florida, Frank has continued to garner awards at events sponsored by the Visual Arts Association and The Villages Art League. He presently teaches twelve adult art classes through The Villages Lifetime Learning College and is the Chairperson for the Artists Helping Artists Program and directs the Jump Start Artists Program at Sea Breeze Recreation Center in The Villages; a program where self-motivated, like-minded artists can accelerate their artistic skills under Frank's direction. You can view his work at his website at frank-zampardi.pixels.com
Frank Zampardi will conduct a one-day workshop on Saturday, January 15, 2022, at the Whispering Pines Recreation facility in Inverness, FL. For more information see the CWS web site at  https://citruswatercolorsociety.org/workshops.html,
or contact Susan Strawbridge at [email protected]