January 2021
Press Release by Norm Freyer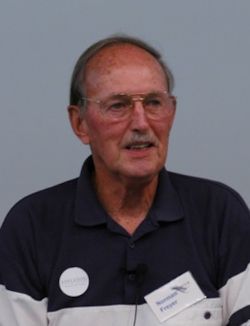 As members of the Citrus Watercolor Society (CWS), many of us participate in art shows where our works are purchased by art lovers and collectors. Have you ever wondered where these painting end up? I have, and I find it quite interesting. Here are some of whom I am aware.
I received a call from my brother regarding a party in Rhode Island who were interested in one of my paintings. They wanted to know if the painting I had completed of Manatees was available. I responded to their call and learned that they had seen a photo of the artwork and that they wanted to purchase the original painting. I had already posted a price on the painting which they accepted. In addition, they agreed to pay the shipping cost to their location. So, it was off to one of the packing and shipping centers to prepare for shipping. The painting arrived in Rhode Island without any mishaps, and the purchasers were happy with the artwork. Sometime later I tried to follow up with these folks only to find that they had moved to Ft. Worth, Texas, Manatee painting and all!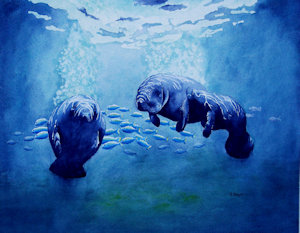 I am not a portraitist! But for some reason I decided to paint a portrait of Ralph Erickson, who was a neighbor of mine. He recently passed way. Anyone who knew Ralph would agree that he was a happy go lucky guy, always with a smile on his face, accompanied by some jolly conversation. Ralph was a native of South Dakota, which was heavy with Scandinavian neighbors. He always celebrated May 17th, the date of his birthday and "Norwegian Independence Day". In preparation of the painting, I took a number of photos of Ralph, but he just would not smile for any of them. I finally picked one of the photos on which I based my painting and completed it. He did like the painting, thank goodness. It now resides with his daughter, who acts as family historian located in Denver, Colorado.
I was exhibiting at a Citrus County art festival a number of years ago. Two ladies came into the booth, who I learned were sisters. One sister was from Alabama, the other from the county area. The lady from Alabama had a photo of her two sons sitting with their dog, and she wanted me to do a portrait of the group. I tried to convince her that I was not a portraitist. We went back and forth for a while and she insisted that I do the painting. I finally submitted. At any rate, I did complete the portrait and I felt that it looked rather good. I had my wife, the ultimate reviewer of my work, critique the painting and she confirmed that it was well done. I called the lady from Alabama and let her know that I was finished. She said that she would be visiting her sister locally soon and she would pick up the painting. We decided a place to meet and the date finally arrived. I exhibited the painting for review, and I knew I was in trouble right away. She did not like it! However, the sister was of a different opinion. She said, "Wow! It looks just like them"! Thank goodness for the opinions of sisters! Her opinion settled the deal, and the portrait went back to Alabama.
And so, CWS artists, do you know where your artwork ends up once it has been sold? If you are able, do some research. You will be surprised. Artwork tends to travel.