Tuesday-November 14, 2023
City Center, Inverness, FL

9:30 am – Noon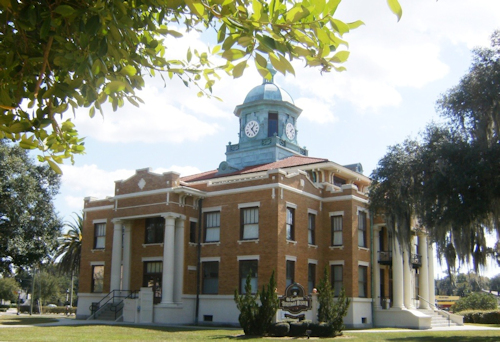 DIRECTIONS:
From Highway #41, south of the Historic Courthouse, turn at the light onto Courthouse Square.  Then turn right and park in the Sheriffs Parking Lot.   Meet on the side of the Historic Courthouse that faces Main St. and the historic shops.
There are some benches along Main St., however no tables are available. Bring an easel or small table and a chair if you wish plus your usual watercolor supplies. 
Restrooms are available inside the Historic Courthouse.  
Dress in layers for a cool start and warm by noon.
Please reply if you are coming.
See you Tuesday,
Joyce Cusick
E-Mail:[email protected]
---
Painting outdoors is a wonderful experience as long as you are reasonably comfortable. A light jacket over a long sleeved tee shirt is good as the weather this time of the year may start off cool and then warm. Wear your CWS Badge.
Supplies: Watercolors (small palette with color or tubes) brushes, covered water container, paper and a foam board or cardboard support. Watercolor pencils work well also. Supplies should fit in a small rolling cart, suitcase, backpack or shoulder bag. A portable easel, folding table, stool or chair is also good. Bring a camera, if you wish, to help decide what to paint.
---
Members meet each month
October through May
to paint on site at scenic locations
in and around Citrus County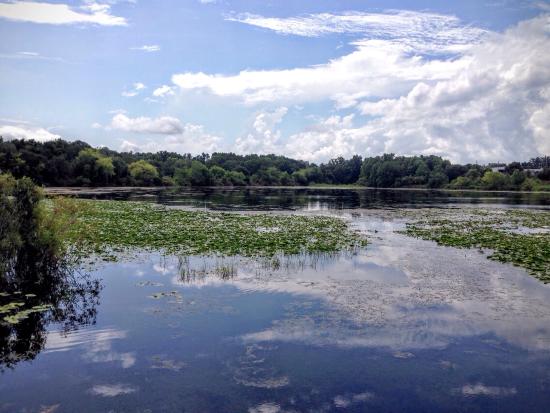 Hope you have all been painting in your studios and in your own back yards.
I miss all of you and hope to resume our paint outs in October.

Stay well and keep painting.

Joyce Cusick
email: [email protected]
Supplies
Watercolors (small palette with color or tubes) brushes, covered water container, paper and a foam board or cardboard support or a watercolor block. Watercolor pencils work well also. Supplies should fit in a small rolling cart, backpack or shoulder bag. A portable easel, folding stool or chair is also good.
Plein Air Tips
Wear a hat, and a scarf may add to your pleasure. It is suggested that you bring a light jacket to start off, with a long sleeve shirt and tee shirt underneath. That way you should be comfortable removing a layer as the day warms. Bring a piece of plastic in case of a shower so you can forget about getting wet and concentrate on painting.
I usually carry OFF (in a packet) to ward off any bugs and sun block for the backs of hands and sometimes the back of neck area.
Paint should be watercolor on paper. Acrylics, watercolor pencils, etc. are also good. Beginners find the watercolor pencils easy to use.
A board to attach WC paper, or WC paper block or pad work well. Quarter or half sheets are good for size.
Brushes and a small water bottle with a small watercolor palette and colors.
A lightweight folding easel is good and a folding stool or chair.
A camera helps to isolate your center of interest and help plan your composition. Also, you can't paint everything in one morning so taking a few pictures helps you to decide the best view.
Kim Shield's Plein Air Video
Kim Shields also has a great video on YouTube. Click to view!
PLEIN AIR PAINTING – WHAT'S IT ALL ABOUT?
Press Release by Norm Freyer – January 2017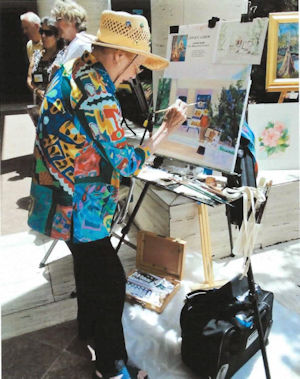 I am sure that, at some time or other, you have seen an artist busy painting on an easel outside at some location. And you were probably unaware that the artist was doing what is called plein air painting. Wikipedia states, "En plein air is a French term that translates literally as the open air."
The term "plein-air painting," as it is currently used, usually refers to paintings that are completed on location. Once considered revolutionary when French Impressionists like Monet and Pissarro first began painting outdoors, today working on location is routine for many landscape artists. Plein-air painters often contend that something is lost when a painting originates from a photograph as the sole reference material—that it just doesn't convey the experience of being there.
At the January 13 (2017) meeting of the Citrus Watercolor Society we were fortunate to have one of our long-term members, Dunnellon artist Joyce Cusick, as our demonstrator on the subject of Plein Air Painting. She attended the Rhode Island School of Design, and after graduating, she was employed in a staff artist position with The Paramount Line greeting card company in Pawtucket, R.I. Upon moving to Florida, she and her husband Gene raised three children, she freelanced Illustration and Design, and studied and went to college. She graduated from the University of Miami with a Bachelor of Fine Arts degree in Painting. She taught drawing and painting at Loch Haven Art Center, Orlando and in Hollywood, Florida. Today, she and her husband have been Marion County residents for 38 years. Joyce says, "I have always enjoyed being outside in undeveloped natural and woodland areas, along rivers and at the seashore. Pencils and sketchbook went with me everywhere so I could draw and capture the wonders that I saw." She continues, "My favorite subjects are trees, especially the mighty cypress trees that grow along the Rainbow and Withlacoochee Rivers. People, coastal birds and wild animals are also favorites, especially Florida Panthers, whenever they appear I quickly paint them into the picture. The State Parks including Rainbow Springs, North of Dunnellon and the Florida Wildlife Park in Homosassa are also favorite places to paint. Anything that moves or catches the light, including people and portraits are within my chosen subjects". Joyce is a member of the Citrus Watercolor Society, the Florida Watercolor Society, the Ocala Art Group, Ocala Plain Air Painters and the Florida Plain Air Painters. She has continued her education attending workshops with noted artists, Nita Leland, David Becker, Janet Rogers, Peter Spatero, Judi Wagner, Pat Weaver, Jean Grastorf, Steve Rogers and others. To view Joyce's work, go to her web site at www.JECusickartist.com
You may contact Joyce Cusick to schedule
additional Plein Air sessions
or to join Joyce on other "paint-out" days.

For other upcoming local Plein Air Events,
visit the Ocala Plein Air Painters website.