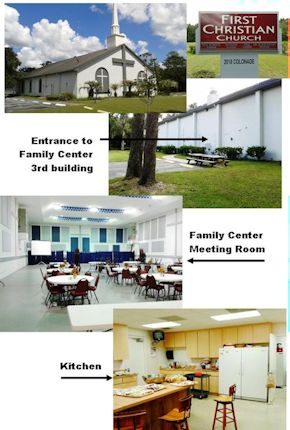 First Christian Church
2018 Colonade
Inverness, FL

Colonade is across from the entrance to Whispering Pines Park (Forest Drive).
Continue past the Church to the back parking lot behind the third church building. The Family Life Center, where we meet.
Enter the building from the back door off the parking lot.
MONTHLY MEETINGS
Refreshments are offered from 11:30 AM – 12:00 PM
Meeting begins at 12:00 PM.
Program (about 1-1/2 hr) follows immediately.
Guest artists demonstrate at most meetings and at luncheons.
September program is the Members' Annual Show & Tell.
June 2022 program is a must-see Paint-Around event.
Workshops are offered several times a year.
Guests are welcome. A $5 donation is appreciated.