Congratulations
Nancy Dias – Signature Award -LWS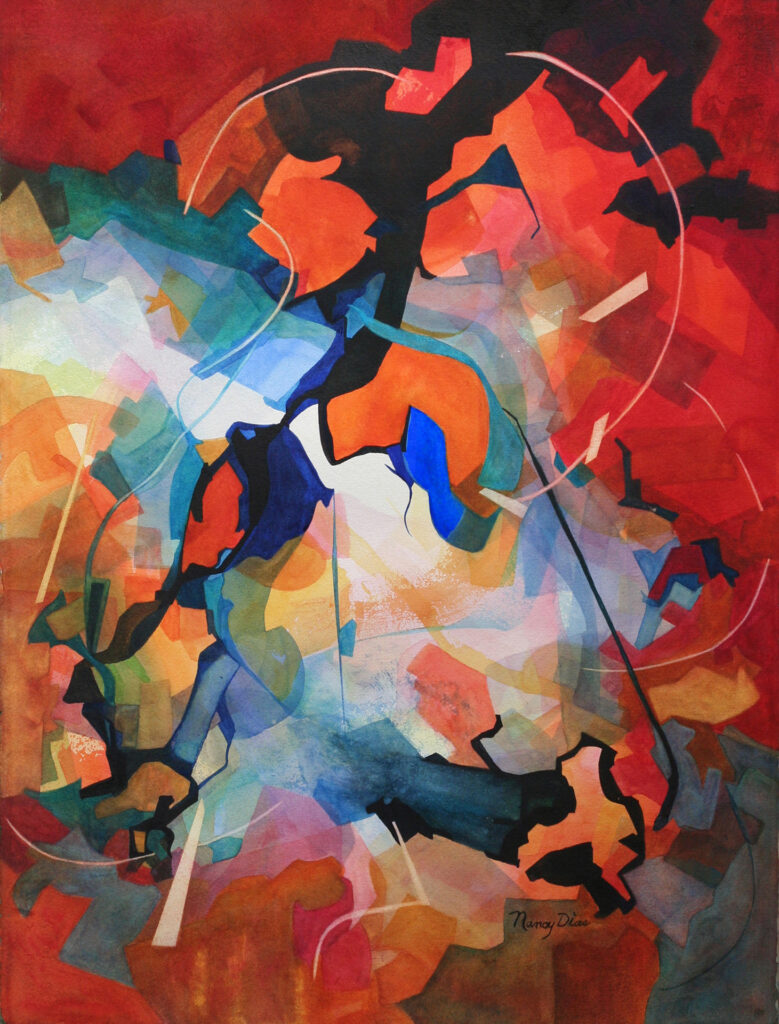 Nancy Dias was accepted into the Louisiana WC Society's 53rd Annual International Exhibition 2023 by Juror Carrie Waller AWS, NWS, LWS for her painting Odyssey. This acceptance was extra special for Nancy as it gained her Signature Member Status of LWS. She plans to attend the Awards Reception Saturday, May 13, 2023, at Place St Charles in New Orleans
Odyssey was also accepted into the Central Florida WC Society's '23 Annual Members Show being held at the Mt. Dora Center for the Arts, 138 E. 5th Avenue, Mt. Dora through March 31.
Mermaids of Weeki Wachee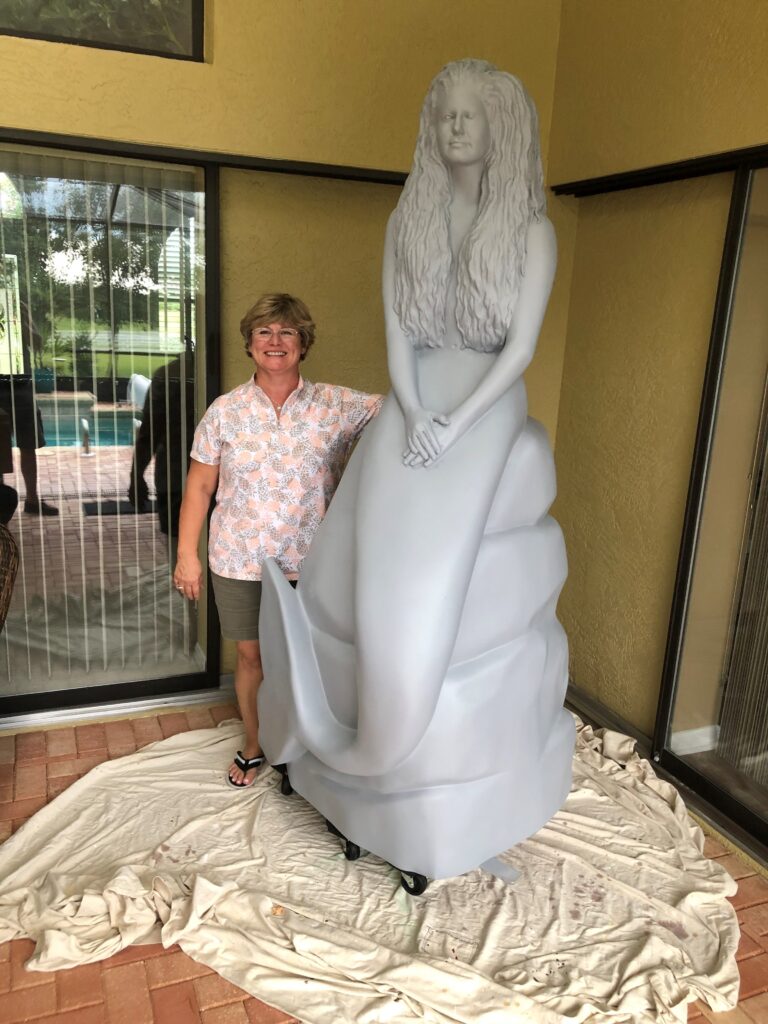 Deb Newman was honored to paint a mermaid for the 75th anniversary of Weeki Wachee. Sponsored by Hernando County Tourism, Deb's design was selected out of 100 submissions, along with 25 other artists. On October 13 at 10:00 a.m. a ceremony unveiling all the mermaids will take place at Weeki Wachee and can be viewed by purchasing a ticket to the park.

Deb Newman is sponsored by Sonny Vegaro, owner of Skyshadow Photography and will be placed at Tom Varn Park in Brooksville. The artwork focuses on Florida water life. Other mermaids will be placed throughout Hernando County, on the Mermaid Trail.

These are 80 pound, 6'8", 54" girth fiberglass statues that have been painted with lacquer paint and clear coated. It took 4 weeks to prep and paint the mermaid.

Deb is quick to thank her support team, including her husband and friends who helped transport the mermaid safely. Invaluable technical support was offered by Marjorie Bannish of Inverness, who is a wiz at sign painting, and Dave Hendrickson, an automotive detail painter from Dade City, who helped Deb properly use the right solvents and paints


---
CONGRATULATIONS

2022 Judge, Mike Mehaffey, has made his selections for the FWS 51st Annual Exhibition in Punta Gorda this September. We are proud to announce that three members of CWS are honored to be among the 100 selected for this prestigious exhibit:
JUDITH CALLISON
"Red Storm Rising"
NANCY DIAS
"Endeavor"
ROBERTA ROMEO
"Casting Shadows"
Barbara Fife's entry "Reading the Star Banner" was selected as an Alternate for the FWS Exhibit.
The show will run from September 4th to November 14 at the Visual Arts Center in Punta Gorda, FL.
---
CONGRATULATIONS
Barbara Kerr and the Process of Nonrepresentational Collage
Meaning in the Mind of the Beholder
What do you think of when you think of a painting? Perhaps the thought evokes an image of serene landscapes, or a detailed depiction of a bird so real it might fly away?
What about something a little different?
Barbara Kerr, local artist and member of the Citrus County Watercolor Society, will be at the Lakes Region Library on Friday, July 22nd at 3:00 PM to give a presentation on her medium of choice: non-representational collage. Non-representational is exactly what it sounds like—as opposed to painting a scene or a person or something of easily recognizable subject matter, non-representational collage is a concept, a feeling, a delightfully self-interpretive mish-mash of shape and color that can't be put into a single box. Instead of focusing on putting something definitive onto a page and aiming for realism, non-representational collage breaks a work down into the very concepts of art itself—line, shape, and color all utilized to invoke an emotional connection in the viewer.
It's something that Barbara does with great skill, using mixed media and a playful creativity to entertain and engage with the viewer. What a piece might mean—that's whatever you make it.
Barbara's art will also be on display at Lakes Region Library during the month of July.
---
CONGRATULATIONS
Nancy Dias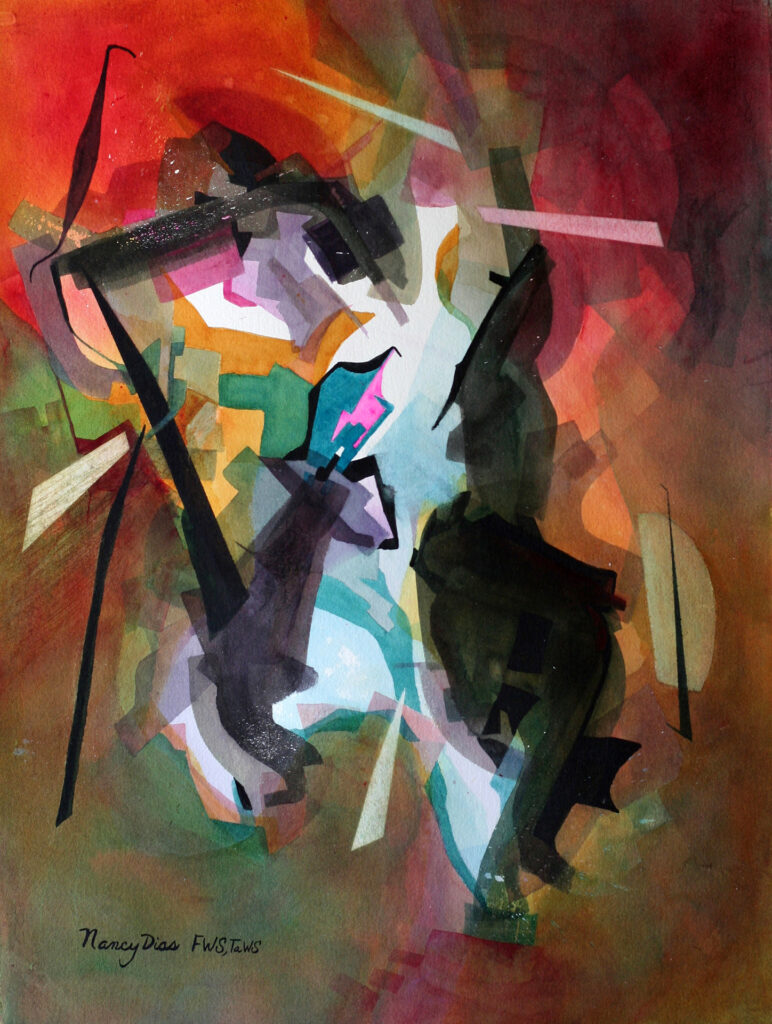 Nancy was excited to learn her painting Awakening was juried into the GWS Georgia WC Society's Member Show by Juror Lynn Pratt. The show will run from August 11the to October 1st at the Quinlan Visual Arts Center at 514 Green Street NE, Gainesville, GA. The entry earned Nancy Signature Member status in GWS. She also is a Signature Member in FWS, TaWS and APUSA.
---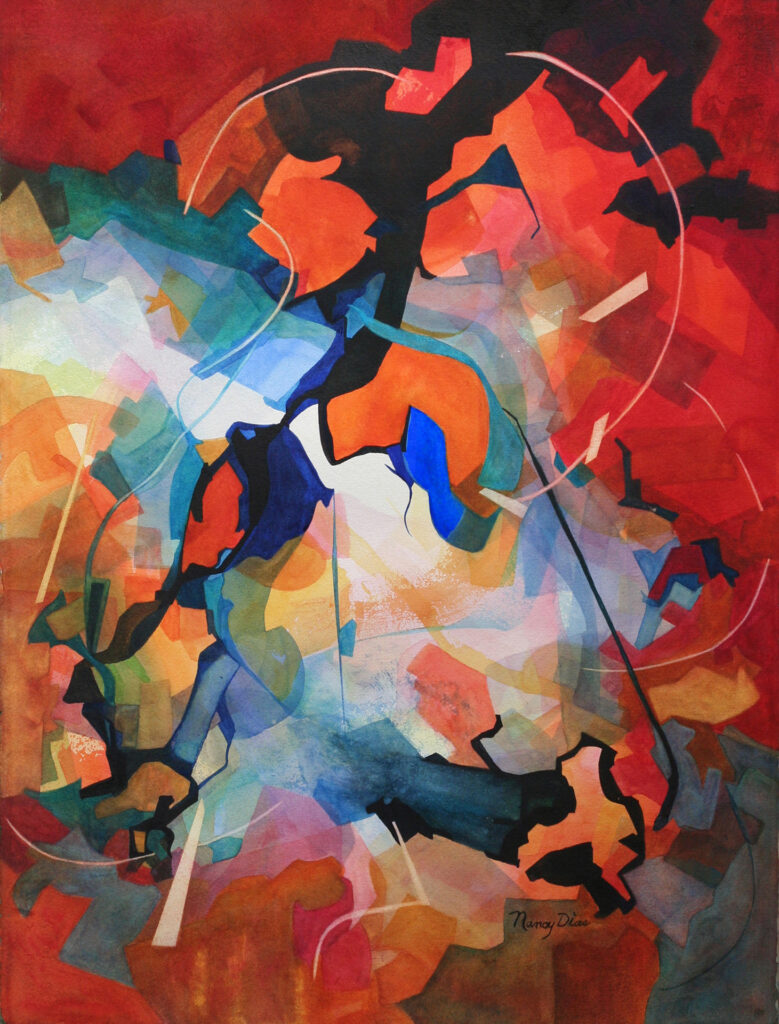 Nancy Dias received the Sheila Varn Memorial Award for her painting Odyssey from the Tallahassee Watercolor Society at their awards reception on May 27. The TaWS 34th Annual Tri-State Water Media Exhibition is being held at the FSU Museum in Tallahassee and will run through July 9th.
Nancy was thrilled to receive Juror Alexis Levine, NW, comments: "This is a strong and powerful abstract, thanks to the strategic placement of contrasting values and intense colors. In spite of its abstract nature, the artist has created a definitive focal area, which pulls me in and engages me with this work. That one intense, glowing, BLUE shape, almost dead center, is essential and brilliantly done!"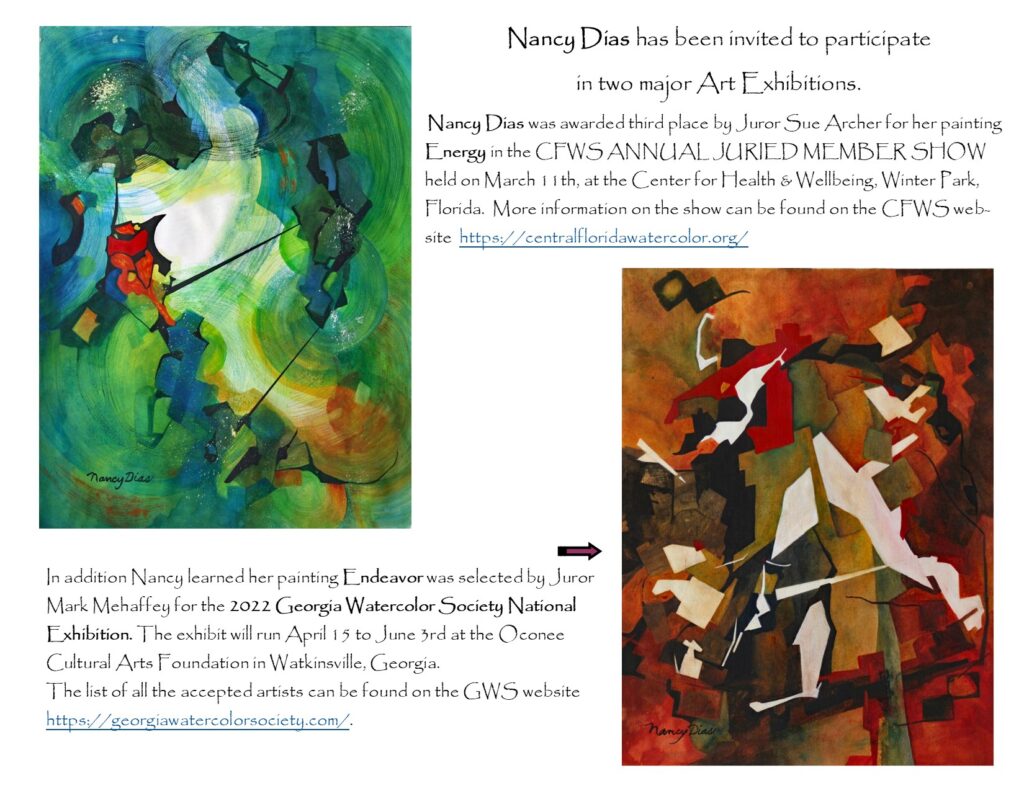 ---
POLLY BOSTON – Polly Boston's watercolor "Seatcovers" (below) is in the FWS display at the Tampa airport (in the hall between the airport and the Marriot.). It should be there for several weeks.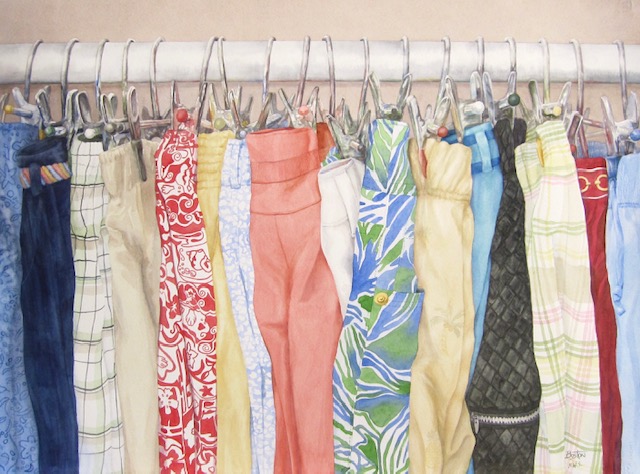 ---
---